Witches Sabbath | Francisco de Goya y Lucientes | 1798
"The Witches' Sabbath" is a painting by Spanish artist Francisco de Goya, created in the late 18th or early 19th century. The painting depicts a scene of witches gathering for a Sabbath, a ritual or celebration associated with witchcraft and the devil.
In the painting, Goya has created a sinister and ominous atmosphere, with the figures of the witches depicted in dark, shadowy tones against a night sky. The composition is crowded and chaotic, with the witches arranged in a jumbled mass, as if caught in the midst of a frenzied celebration. The use of light and color is also striking, with the bright, ghostly light of the moon illuminating the scene and casting deep shadows.
The painting is notable for its eerie and disturbing content, as it reflects the fear and superstition surrounding witchcraft and the devil in Goya's time. Through his depiction of the witches' Sabbath, Goya sought to convey a sense of horror and to challenge viewers' preconceptions about the supernatural.
Print:
A premium quality heavyweight (200gsm) fine art print material with a smooth, clean finish. This museum quality paper is extremely consistent and works perfectly with large, full colour graphics or illustrations. The matte finish emphasizes different highlights and tones in the source artworks; helping to create stunning works of art.
- All prints include a small 0.25 inch white border to ensure space for framing.
Our Eco Credentials Include:
FSC approved or sustainably sourced paper
Printed using water based inks
Local fulfilment reduces carbon emissions
Contains no plastic
Prints:
8" x 12" Inches = 20.3 cm x 30.5 cm
12'' x 18'' Inches = 30.5 cm x 45.7 cm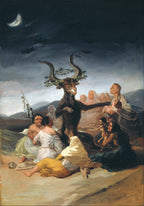 Witches Sabbath | Francisco de Goya y Lucientes | 1798