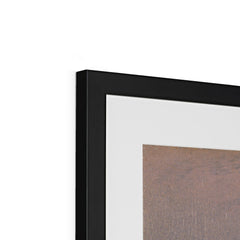 Winter Landscape | Caspar David Friedrich | 1811
"Winter Landscape" is an oil painting by German Romantic artist Caspar David Friedrich, created in the early 19th century. The painting depicts a snowy winter scene, with a Cathedral in the background. The trees and other natural features are covered in a blanket of snow, while the sky is painted in a pale, wintry red. Despite the apparent stillness and emptiness of the scene, the painting has a serene and peaceful atmosphere, with the snow and the surrounding landscape lending a sense of timelessness and natural beauty. The overall mood of the painting is introspective, with the winter landscape serving as a reminder of the transience of all things and the power of nature. Friedrich's interest in the Romantic movement is evident in his use of light and shadow, as well as his focus on the emotional and spiritual aspects of nature.
Frame:
Created from high-quality wood, milled with simple clean lines and presented with a satin finish. Includes an off-white mount that will not discolour or fade with age.
All framed prints feature our premium fine art paper. This is a museum-quality paper which reproduces photography and artworks with exceptional tonality and renders sharp details with consistent flatness and accuracy.

Print: 

For the matted / mounted prints we use a thick 1.4mm window mount cut from premium, textured mountboard. All mounts are "conservation grade", FSC certified, 100% acid free, and will not discolour or fade with age.

Simple, elegant design
Premium, fine art paper with a gently textured surface
Handmade by specialist picture framers
FSC certified off-white mat / window mount
Delivered ready for hanging
Winter Landscape | Caspar David Friedrich | 1811