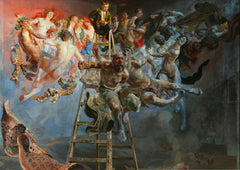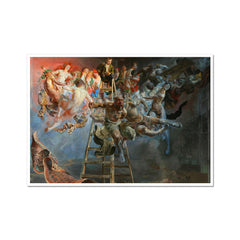 Vicious Circle | Jacek Malczewski | 1897
The painting depicts a fantastic vision of human figures whirling dynamically in mid-air in a magical circle. The artist represented himself as a pensive boy sitting on top of a stepladder above the titular vicious circle and holding a brush in his hand. He is surrounded by the naked bodies of Bacchantes; youths and elderly men personifying the feelings and imagination of a young artist. Paradoxically, they seem both real thanks to the painting's illusory visual expression and unreal because of the abstract space they occupy in the painting. The left and better-lit side of the painting symbolizes sensual ecstasy while the right, dark side represents the fears and anxiety of the artist. According to Irena Kossowska, this inner dualism of the artist's creativity portrays the vitality of human instincts as well as the tragedy of human fate. In this work, Malczewski expresses the idea of the tortured creative genius of the artist who is searching for inspiration. The work can be interpreted as a question on the nature of art and the vocation of an artist.
Print: 

A premium quality heavyweight (200gsm) fine art print material with a smooth, clean finish. This museum quality paper is extremely consistent and works perfectly with large, full colour graphics or illustrations. The matte finish emphasises different highlights and tones in the source artworks; helping to create stunning works of art.
- All prints feature a 0.25 inch white border to ensure space for framing. 
Our Eco Credentials Include:
FSC approved or sustainably sourced paper
Printed using water based inks
Local fulfilment reduces carbon emissions
Contains no plastic
Sizes:
A2 = 23.4 x 16.5 Inches
A3 = 16.5 x 11.7 Inches
A4 = 11.7 x 8.3 Inches

Vicious Circle | Jacek Malczewski | 1897