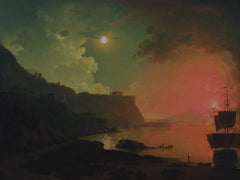 Vesuvius from Posillipo | Joseph Wright of Derby | 1788
"Vesuvius from Posillipo" is a painting by Joseph Wright of Derby, created in the late 18th century. The painting depicts the view of Mount Vesuvius, the active volcano near Naples, Italy, as seen from the nearby coastal town of Posillipo.
In the painting, Wright has captured the imposing and awe-inspiring presence of the volcano, with its billowing smoke and fiery eruptions visible against the dark night sky. The use of light and color is also striking, with the bright red and orange glow of the eruption contrasting against the dark blues and blacks of the night sky.
The painting is notable for its scientific and educational content, as it reflects the growing interest in natural history and the sciences during the Enlightenment. Through his depiction of Vesuvius, Wright sought to educate viewers about the geological forces at work in the world, and to encourage curiosity and interest in the natural world.
Print: 
A premium quality heavyweight (200gsm) fine art print material with a smooth, clean finish. This museum quality paper is extremely consistent and works perfectly with large, full colour graphics or illustrations. The matte finish emphasises different highlights and tones in the source artworks; helping to create stunning works of art.
- All prints feature a 0.25 inch white border to ensure space for framing. 
Our Eco Credentials Include:
FSC approved or sustainably sourced paper
Printed using water based inks
Local fulfilment reduces carbon emissions
Contains no plastic
Sizes:
14'' x 11'' Inches = 35.6 cm x 27.9 cm
20''x 16'' Inches = 50.8 cm x 40.6 cm

Vesuvius from Posillipo | Joseph Wright of Derby | 1788