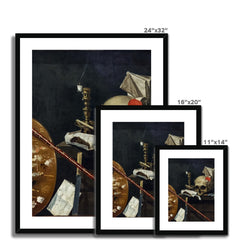 Vanité - Nature Morte | Sébastien Bonnecroy | 1641
The Vanitas pictures emerged beginning with the late years of the 15th century. These pictures have a symbolic meaning, as most old paintings in art history: they are a representation of Vanity and also Vainglory (unjustified boasting). It describes through the visual language the meaningless in the efforts of gathering valuable material objects, earthly goods and pursuits and the ephemerality of earthly pleasures: in the middle of the richly depicted pearls, gold, coins and jewels there are sculls. This concept comes from the Latin words of Ecclesiastes.
Frame:
Created from high-quality wood, milled with simple clean lines and presented with a satin finish. Includes an off-white mount that will not discolour or fade with age.
All framed prints feature our premium fine art paper. This is a museum-quality paper which reproduces photography and artworks with exceptional tonality and renders sharp details with consistent flatness and accuracy.

Print: 

For the matted / mounted prints we use a thick 1.4mm window mount cut from premium, textured mountboard. All mounts are "conservation grade", FSC certified, 100% acid free, and will not discolour or fade with age.

Simple, elegant design
Premium, fine art paper with a gently textured surface
Handmade by specialist picture framers
FSC certified off-white mat / window mount
Delivered ready for hanging
Vanité - Nature Morte | Sébastien Bonnecroy | 1641