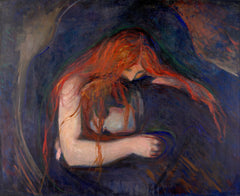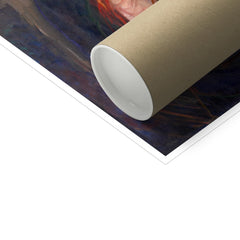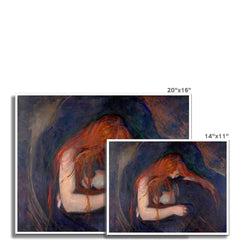 Vampire | Edvard Munch | 1895
Love and Pain is an 1895 painting by Edvard Munch; it has also been called Vampire, though not by Munch. The painting depicts a man and woman embracing, with the woman appearing to be either kissing or biting the man on his neck. Munch painted six different versions of the same subject between 1893 and 1895. 
the painting shows a woman with long flame-red hair kissing a man on the neck, as the couple embrace. Although others have seen in it "a man locked in a vampire's tortured embrace – her molten-red hair running along his soft bare skin," Munch himself always claimed it showed nothing more than "just a woman kissing a man on the neck"
Print:
A premium quality heavyweight (200gsm) fine art print material with a smooth, clean finish. This museum quality paper is extremely consistent and works perfectly with large, full colour graphics or illustrations. The matte finish emphasizes different highlights and tones in the source artworks; helping to create stunning works of art.
- All prints include a small white border to ensure space for framing.
Our Eco Credentials Include:
FSC approved or sustainably sourced paper
Printed using water based inks
Local fulfilment reduces carbon emissions
Contains no plastic
Sizes:
14 x 11 Inches = 35.5 cm x 28 cm
20 x 16 Inches = 50.8 cm x 40.6 cm
Vampire | Edvard Munch | 1895