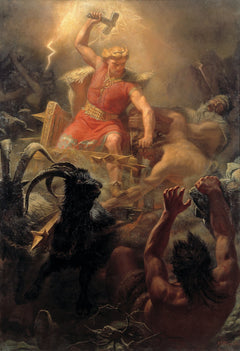 Thor's Fight with the Giants | Mårten Eskil Winge | 1872
Thor's Fight with the Giants is an 1872 painting by the Swedish artist Mårten Eskil Winge. It depicts the Norse god Thor in a battle against the jötnar. The thunder god rides his chariot pulled by the goats Tanngrisnir and Tanngnjóstr, wears his belt Megingjörð, and swings his hammer Mjölnir, which is wreathed in lightning.
Print:
A premium quality heavyweight (200gsm) fine art print material with a smooth, clean finish. This museum quality paper is extremely consistent and works perfectly with large, full colour graphics or illustrations. The matte finish emphasizes different highlights and tones in the source artworks; helping to create stunning works of art.
- All prints include a small 0.25 inch white border to ensure space for framing.
Our Eco Credentials Include:
FSC approved or sustainably sourced paper
Printed using water based inks
Local fulfilment reduces carbon emissions
Contains no plastic
Sizes:
A2 = 16.5 x 23.4 Inches
A3 = 11.7 x 16.5 Inches
A4 = 8.3 x 11.7 Inches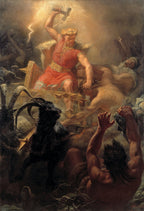 Thor's Fight with the Giants | Mårten Eskil Winge | 1872