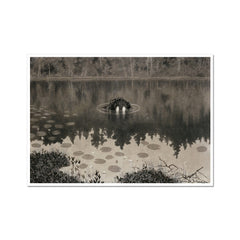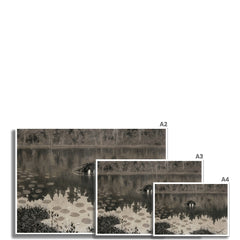 The Water Sprite | Theodor Kittelsen | 1892
"The Water Sprite" by Theodor Kittelsen, created around 1892, is a striking black-and-white illustration that depicts a mystical and serene scene centered on a water sprite emerging from a calm body of water. The creature's eyes are peering out, creating a subtle sense of intrigue and perhaps a touch of foreboding. Lilies dot the water's surface, and the reflective quality of the water creates a mirror image of the trees along the bank, blurring the line between reality and reflection. The foreground is detailed with vegetation and some twigs, suggesting a natural, untouched landscape. The piece is rendered in a monochromatic palette, with detailed shading techniques that give depth and texture to the scene. This artwork is characteristic of Kittelsen's style, which often blends elements of folklore and nature, inviting the viewer into a contemplative narrative of Norwegian myths and tales.
Print: 

A premium quality heavyweight (200gsm) fine art print material with a smooth, clean finish. This museum quality paper is extremely consistent and works perfectly with large, full colour graphics or illustrations. The matte finish emphasises different highlights and tones in the source artworks; helping to create stunning works of art.
- All prints feature a 0.25 inch white border to ensure space for framing. 
Our Eco Credentials Include:
FSC approved or sustainably sourced paper
Printed using water based inks
Local fulfilment reduces carbon emissions
Contains no plastic
Sizes:
A2 = 16.5 x 23.4 Inches
A3 = 11.7 x 16.5 Inches
A4 = 8.3 x 11.7 Inches
The Water Sprite | Theodor Kittelsen | 1892