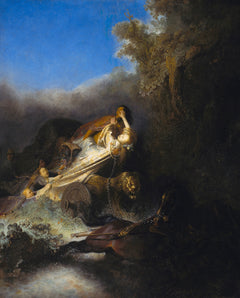 The Rape of Proserpine | Rembrandt | 1631
The Rape of Persephone, or Abduction of Persephone, is a classical mythological subject in Western art, depicting the abduction of Persephone by Hades. This then resulted in the myth surrounding the creation of the seasons, as Demeter mourned the time that Persephone spent in the Underworld with her husband. In the context of the subject, the word "Rape" refers to the traditional translation of the Latin raptus, "seized" or "carried off", and not to sexual violence.
Print: 
A premium quality heavyweight (200gsm) fine art print material with a smooth, clean finish. This museum quality paper is extremely consistent and works perfectly with large, full colour graphics or illustrations. The matte finish emphasises different highlights and tones in the source artworks; helping to create stunning works of art.
- All prints feature a 0.25 inch white border to ensure space for framing. 
Our Eco Credentials Include:
FSC approved or sustainably sourced paper
Printed using water based inks
Local fulfilment reduces carbon emissions
Contains no plastic
Size:
11'' x 14'' Inches = 27.9 cm x 35.6 cm 
16" x 20" Inches = 40.6 cm x 50.8 cm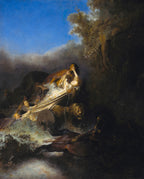 The Rape of Proserpine | Rembrandt | 1631