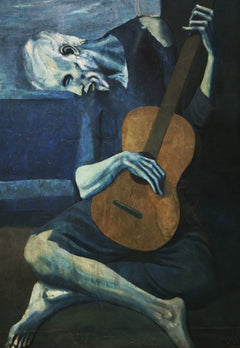 The Old Guitarist | Pablo Picasso | 1904
The Old Guitarist is an oil painting by Pablo Picasso, which he created in late 1903 and early 1904. It depicts an elderly musician, a haggard man with threadbare clothing, who is hunched over his guitar while playing in the streets of Barcelona, Spain. It is on display at the Art Institute of Chicago as part of the Helen Birch Bartlett Memorial Collection.

At the time of The Old Guitarist's creation, Modernism, Impressionism, Post-Impressionism, and Symbolism had greatly influenced Picasso's style. Furthermore, El Greco, Picasso's poor standard of living, and the suicide of a dear friend influenced Picasso's style at the time which came to be known as his Blue Period. Several x-rays, infrared images and examinations by curators revealed three different figures hidden behind the old guitarist.
Print:
A premium quality heavyweight (200gsm) fine art print material with a smooth, clean finish. This museum quality paper is extremely consistent and works perfectly with large, full colour graphics or illustrations. The matte finish emphasizes different highlights and tones in the source artworks; helping to create stunning works of art.
- All prints include a small 0.25 inch white border to ensure space for framing.
Our Eco Credentials Include:
FSC approved or sustainably sourced paper
Printed using water based inks
Local fulfilment reduces carbon emissions
Contains no plastic
Sizes:
A1 = 23.4 x 33.1 Inches
A2 = 16.5 x 23.4 Inches
A3 = 11.7 x 16.5 Inches
A4 = 8.3 x 11.7 Inches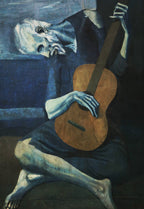 The Old Guitarist | Pablo Picasso | 1904