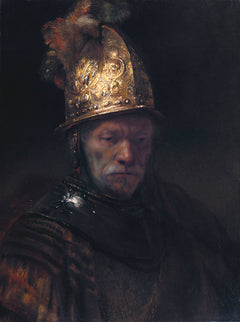 The Man with the Golden Helmet | Rembrandt | 1650
"The Man with the Golden Helmet" is a painting by Rembrandt, created in the mid-1650s. The painting depicts a man wearing a distinctive golden helmet and a cloak, who is shown in three-quarter view, facing towards the viewer. The identity of the man in the painting is not known, and the painting has been variously interpreted as a portrait of a historical figure or a depiction of a biblical or mythological character.
The painting is characterized by Rembrandt's masterful use of light and shadow, which serves to create a sense of depth and volume. The golden helmet and the man's fur cloak are depicted with great detail and texture, and the painting is also notable for its use of rich, warm colors, such as the reddish-brown of the fur cloak and the bright gold of the helmet.
The painting is notable for its psychological intensity, as the man's gaze is direct and engages the viewer, creating a sense of connection and intimacy. Through the use of light, color, and composition, Rembrandt has created a powerful image that invites the viewer to contemplate the identity and character of the man in the painting.
Print: 
A premium quality heavyweight (200gsm) fine art print material with a smooth, clean finish. This museum quality paper is extremely consistent and works perfectly with large, full colour graphics or illustrations. The matte finish emphasises different highlights and tones in the source artworks; helping to create stunning works of art.
- All prints feature a 0.25 inch white border to ensure space for framing. 
Our Eco Credentials Include:
FSC approved or sustainably sourced paper
Printed using water based inks
Local fulfilment reduces carbon emissions
Contains no plastic
Sizes:
11'' x 14'' Inches = 27.9 cm x 35.6 cm
16'' x 20'' Inches = 40.6 cm x 50.8 cm
The Man with the Golden Helmet | Rembrandt | 1650