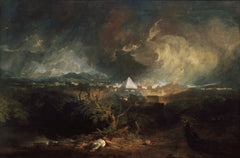 The Fifth Plague of Egypt | JMW Turner | 1800
The Fifth Plague of Egypt is an oil painting by Romantic English artist Joseph Mallord William Turner currently in the permanent collection at the Indianapolis Museum of Art. Despite its title, it depicts Moses cursing the Egyptians with a plague of hail and fire, known as the seventh plague. 
In the foreground, two dead horses and a dead man are piled together, casualties of the earlier plague of pestilence in livestock. To the right, Moses stands with his arms outstretched, cursing the Egyptians with a plague of hail and fire, far away from the engulfed city. In the background, tumultuous clouds swirl above the Egyptian city, which is denoted by the gleaming, white pyramid in the centre of the canvas. Thin, horizontal lines fall from the clouds, showing streaks of hail falling from the sky. The painting is dominated with dark, neutral tones, creating the feeling of gloom.

Although the painting would be categorised as a history painting for its display of a biblical scene, the painting comes across as a landscape painting, clearly demonstrating Turner's training in landscapes. The sky and the scenery take precedence over the figure of Moses and his actions, instead turning him into part of the landscape. The painting shows the force of nature as a more important factor than the force of man, which is minuscule.
Print:
A premium quality heavyweight (200gsm) fine art print material with a smooth, clean finish. This museum quality paper is extremely consistent and works perfectly with large, full colour graphics or illustrations. The matte finish emphasizes different highlights and tones in the source artworks; helping to create stunning works of art.
- All prints include a small 0.25 inch white border to ensure space for framing.
Our Eco Credentials Include:
FSC approved or sustainably sourced paper
Printed using water based inks
Local fulfilment reduces carbon emissions
Contains no plastic

The Fifth Plague of Egypt | JMW Turner | 1800