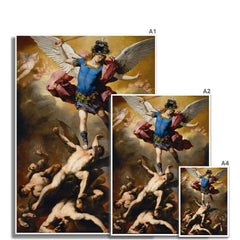 The Fall of the Rebel Angels | Luca Giordano | 1660
"The Fall of the Rebel Angels" is a painting by Italian Baroque artist Luca Giordano, created in the late 17th century. The painting depicts the biblical story of the fall of the angels who rebelled against God, as described in the book of Revelation.
In the painting, Giordano has created a dramatic and tumultuous scene, in which the rebel angels are shown falling from the heavens, amidst bolts of lightning and clouds of smoke. The composition is crowded and dynamic, with the figures arranged in a series of diagonal lines that lead the eye towards the center of the painting. The use of color is also striking, with bright hues of blue, red, and gold used to convey the intensity of the scene.
The painting is notable for its religious and allegorical content, as it reflects the belief in the power of God and the consequences of rebellion against divine authority. Through his depiction of the fall of the rebel angels, Giordano sought to convey a moral message and to encourage viewers to consider the dangers of temptation and sin.
Print: 
A premium quality heavyweight (200gsm) fine art print material with a smooth, clean finish. This museum quality paper is extremely consistent and works perfectly with large, full colour graphics or illustrations. The matte finish emphasises different highlights and tones in the source artworks; helping to create stunning works of art.
- All prints feature a 0.25 inch white border to ensure space for framing. 
Our Eco Credentials Include:
FSC approved or sustainably sourced paper
Printed using water based inks
Local fulfilment reduces carbon emissions
Contains no plastic
Size:
A1 = 23.4 x 33.1 Inches
A2 = 16.5 x 23.4 Inches
A3 = 11.7 x 16.5 Inches
A4 = 8.3 x 11.7 Inches
The Fall of the Rebel Angels | Luca Giordano | 1660