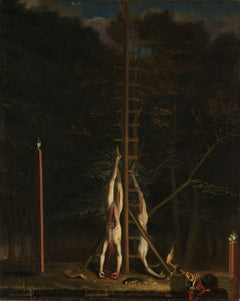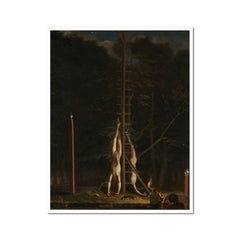 The Corpses of the De Witt Brothers | Jan de Baen | 1675
"The Corpses of the De Witt Brothers" is a painting by Jan de Baen, a Dutch Baroque artist who was active in the late 17th century. The painting depicts the bodies of Johan and Cornelius de Witt, two prominent Dutch statesmen who were murdered in 1672 by a mob during the height of political turmoil in the Netherlands. The painting shows the two brothers lying on the ground, surrounded by a crowd of horrified onlookers. The bodies are depicted in a highly realistic manner, and the painting is characterized by its attention to detail and its dramatic lighting. The painting is widely considered to be a masterpiece of Dutch Baroque art, and is notable for its powerful emotional impact and its depiction of the consequences of political violence. "The Corpses of the De Witt Brothers" is considered to be one of Jan de Baen's most important works, and is an important historical and cultural artifact of the Netherlands.
Print: 
A premium quality heavyweight (200gsm) fine art print material with a smooth, clean finish. This museum quality paper is extremely consistent and works perfectly with large, full colour graphics or illustrations. The matte finish emphasises different highlights and tones in the source artworks; helping to create stunning works of art.
- All prints feature a 0.25 inch white border to ensure space for framing. 
Our Eco Credentials Include:
FSC approved or sustainably sourced paper
Printed using water based inks
Local fulfilment reduces carbon emissions
Contains no plastic
Sizes:
11 x 14 Inches = 28 cm x 35.5 cm
16 x 20 Inches = 40.6 cm x 50.8 cm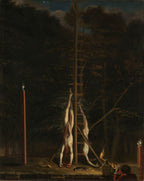 The Corpses of the De Witt Brothers | Jan de Baen | 1675