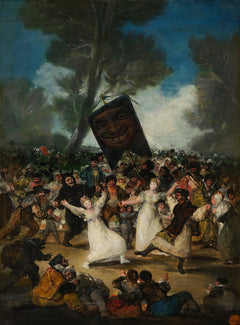 The Burial of the Sardine | Francisco de Goya | 1819
The Burial of the Sardine is an oil on panel painting by Spanish artist Francisco Goya, usually dated to the 1810s. The title is posthumous, referring to the culminating event of a three-day carnival in Madrid ending on Ash Wednesday. Masked and disguised revellers are seen dancing their way to the banks of the Manzanares, where a ceremonial sardine will be buried. Goya does not illustrate the fish in the painting, nor the large doll made of straw, called a pelele, from which it hung; the centrepiece is the darkly grinning "King of the Carnival".
Print:
A premium quality heavyweight (200gsm) fine art print material with a smooth, clean finish. This museum quality paper is extremely consistent and works perfectly with large, full colour graphics or illustrations. The matte finish emphasizes different highlights and tones in the source artworks; helping to create stunning works of art.
- All prints include a small 0.25 inch white border to ensure space for framing.
Our Eco Credentials Include:
FSC approved or sustainably sourced paper
Printed using water based inks
Local fulfilment reduces carbon emissions
Contains no plastic
Sizes:
A0 = 33.1 x 46.8 Inches 
A1 = 23.4 x 33.1 Inches
A2 = 16.5 x 23.4 Inches
A3 = 11.7 x 16.5 Inches
A4 = 8.3 x 11.7 Inches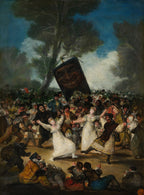 The Burial of the Sardine | Francisco de Goya | 1819