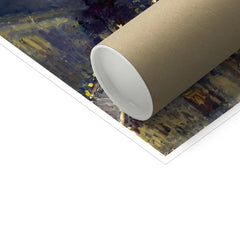 The Boulevard Montmartre at Night | Camille Pissarro | 1897
Towards the end of his life Pissarro increasingly turned to the representation of town scenes in Paris, Rouen, Dieppe, Le Havre and London, mainly painted from the windows of hotels and apartments. In February 1897 he took a room in Paris at the Hôtel de Russie on the corner of the Boulevard des Italiens and the Rue Drouot, and produced a series of paintings of the Boulevard Montmartre at different times of the day. Pissarro may have been influenced by the series of paintings on which Monet was engaged at this time, and by the earlier urban scenes of Manet. This painting is the only night scene from this series, and is a masterful rendition of the play of lights on dark and wet streets. Pissarro neither signed nor exhibited it during his lifetime.
Print: 
A premium quality heavyweight (200gsm) fine art print material with a smooth, clean finish. This museum quality paper is extremely consistent and works perfectly with large, full colour graphics or illustrations. The matte finish emphasises different highlights and tones in the source artworks; helping to create stunning works of art.
- All prints feature a 0.25 inch white border to ensure space for framing. 
Our Eco Credentials Include:
FSC approved or sustainably sourced paper
Printed using water based inks
Local fulfilment reduces carbon emissions
Contains no plastic
Sizes:
14 x 11 Inches = 35.6 cm x 27.9 cm 
20 x 16 Inches = 50.8 cm x 40.6 cm

The Boulevard Montmartre at Night | Camille Pissarro | 1897