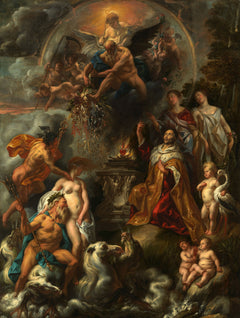 The Blessings of the Peace of Westphalia | Jacob Jordaens | 1654
"The Blessings of the Peace of Westphalia" is a painting by Flemish Baroque artist Jacob Jordaens, created in the mid-17th century. The painting depicts a crowded and lively scene, in which people from all walks of life gather to celebrate the signing of the Peace of Westphalia, which ended the Thirty Years' War and marked the end of religious conflict in Europe.
In the painting, Jordaens has depicted a rich tapestry of characters, including nobles, soldiers, merchants, and peasants, all of whom are shown participating in the festivities. The composition is lively and dynamic, with the figures arranged in a series of diagonal lines that lead the eye towards the center of the scene. The bright colors and elaborate costumes of the figures, as well as the festive decorations in the background, serve to create a celebratory mood.
The painting is also notable for its political and historical significance, as it reflects the sense of optimism and hope that characterized the signing of the Peace of Westphalia. Through his depiction of the joyful gathering, Jordaens celebrated the end of a long and devastating conflict and the hope for a better future for all Europeans.
Print:
A premium quality heavyweight (200gsm) fine art print material with a smooth, clean finish. This museum quality paper is extremely consistent and works perfectly with large, full colour graphics or illustrations. The matte finish emphasizes different highlights and tones in the source artworks; helping to create stunning works of art.
- All prints include a small 0.25 inch white border to ensure space for framing.
Our Eco Credentials Include:
FSC approved or sustainably sourced paper
Printed using water based inks
Local fulfilment reduces carbon emissions
Contains no plastic
Sizes:
A2 = 16.5 x 23.4 Inches
A3 = 11.7 x 16.5 Inches
A4 = 8.3 x 11.7 Inches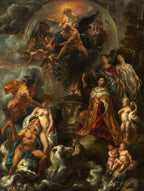 The Blessings of the Peace of Westphalia | Jacob Jordaens | 1654