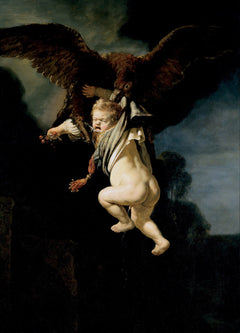 The Abduction of Ganymede | Rembrandt | 1635
"The Abduction of Ganymede" is a painting by Rembrandt, created in the 1630s. The painting depicts the mythological scene of Zeus, disguised as an eagle, abducting the handsome young Ganymede to be his cup-bearer and lover on Mount Olympus. In the painting, Ganymede is shown being lifted into the air by the eagle, his arms outstretched in surprise and alarm, while other figures look on in horror.
The painting is characterized by Rembrandt's masterful use of light and shadow, as well as his ability to convey movement and emotion through the gestures and expressions of the figures. The eagle, in particular, is depicted in great detail, with its feathers, talons, and beak carefully rendered. The painting is also notable for its dramatic use of color, with the golden eagle contrasting against the dark sky and the bright white of Ganymede's tunic.
Print:
A premium quality heavyweight (200gsm) fine art print material with a smooth, clean finish. This museum quality paper is extremely consistent and works perfectly with large, full colour graphics or illustrations. The matte finish emphasizes different highlights and tones in the source artworks; helping to create stunning works of art.
- All prints include a small 0.25 inch white border to ensure space for framing.
Our Eco Credentials Include:
FSC approved or sustainably sourced paper
Printed using water based inks
Local fulfilment reduces carbon emissions
Contains no plastic
Sizes:
A2 = 16.5 x 23.4 Inches
A3 = 11.7 x 16.5 Inches
A4 = 8.3 x 11.7 Inches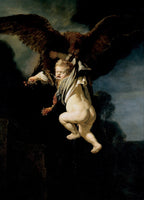 The Abduction of Ganymede | Rembrandt | 1635