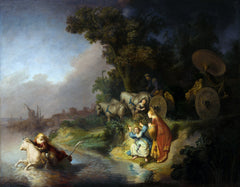 The Abduction of Europa | Rembrandt | 1632
"The Abduction of Europa" is a painting by Dutch Baroque master Rembrandt. It depicts the mythological scene in which the god Zeus, in the form of a bull, carries off the princess Europa to be his lover. The painting is characterized by Rembrandt's dramatic use of light and dark, with the contrasts of light and shadow adding to the sense of movement and energy in the scene. The figures of Europa and the bull are depicted in a highly realistic manner, with their intricate details and lifelike facial expressions conveying a sense of physical and emotional struggle. The intricate details of the bull's fur and the surrounding landscape also add to the painting's dramatic impact. Rembrandt's use of color is also noteworthy, with the warm hues of the figures' skin tones and clothing contrasting against the cool blues and greens of the background. "The Abduction of Europa" is considered one of Rembrandt's masterpieces and is widely recognized as a powerful example of Dutch Baroque art.
Print: 
A premium quality heavyweight (200gsm) fine art print material with a smooth, clean finish. This museum quality paper is extremely consistent and works perfectly with large, full colour graphics or illustrations. The matte finish emphasises different highlights and tones in the source artworks; helping to create stunning works of art.
- All prints feature a 0.25 inch white border to ensure space for framing. 
Our Eco Credentials Include:
FSC approved or sustainably sourced paper
Printed using water based inks
Local fulfilment reduces carbon emissions
Contains no plastic
Sizes:
14'' x 11'' Inches =  35.6 cm x 27.9 cm 
20''x 16'' Inches =  50.8 cm x 40.6 cm

The Abduction of Europa | Rembrandt | 1632