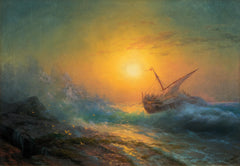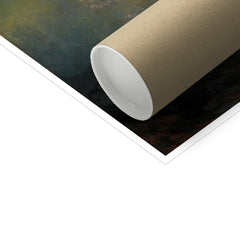 Stormy Sea in the Sunset | Ivan Ayvazovsky | 1896
"Stormy Sea in the Sunset" is a painting by Russian marine artist Ivan Ayvazovsky, created in the late 19th century. The painting depicts a turbulent sea during a sunset, with waves crashing against rocks and ships caught in the storm. The painting showcases Ayvazovsky's mastery of capturing the mood and energy of the sea, as well as his ability to convey the drama and danger of a raging storm. The painting is notable for its vivid and powerful depiction of the power of the sea, and is considered an important work of marine art. Ayvazovsky was one of the most prominent marine artists of his time and was widely admired for his ability to capture the beauty and majesty of the ocean.
Print: 

A premium quality heavyweight (200gsm) fine art print material with a smooth, clean finish. This museum quality paper is extremely consistent and works perfectly with large, full colour graphics or illustrations. The matte finish emphasises different highlights and tones in the source artworks; helping to create stunning works of art.
- All prints feature a 0.25 inch white border to ensure space for framing. 
Our Eco Credentials Include:
FSC approved or sustainably sourced paper
Printed using water based inks
Local fulfilment reduces carbon emissions
Contains no plastic
Sizes:
A2 = 23.4 x 16.5 Inches
A3 = 16.5 x 11.7 Inches
A4 = 11.7 x 8.3 Inches

Stormy Sea in the Sunset | Ivan Ayvazovsky | 1896