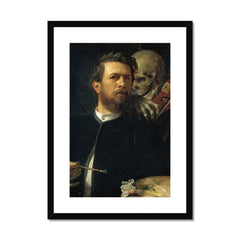 Self Portrait with Fiddling Death | Arnold Böcklin | 1872
"Self Portrait with Fiddling Death" is an oil painting by Swiss artist Arnold Böcklin. The painting features the artist in the foreground, depicted as a musical performer, while in the background Death is depicted as a hooded figure playing a fiddle. The expression on the artist's face is one of peace and contentment, as if he is unafraid of Death, who is playing its melody in the background. The use of light and dark tones creates a contrast between life and death, with the warm colors of the artist's face and clothing set against the dark, shadowy figure of Death. The painting is a powerful representation of the artist's attitude towards mortality, and his acceptance of death as a natural part of life. Overall, "Self Portrait with Fiddling Death" is a striking and memorable work of art.
Frame:
Created from high-quality wood, milled with simple clean lines and presented with a satin finish. Includes an off-white mount that will not discolour or fade with age.
All framed prints feature our premium fine art paper. This is a museum-quality paper which reproduces photography and artworks with exceptional tonality and renders sharp details with consistent flatness and accuracy.

Print: 

For the matted / mounted prints we use a thick 1.4mm window mount cut from premium, textured mountboard. All mounts are "conservation grade", FSC certified, 100% acid free, and will not discolour or fade with age.

Simple, elegant design
Premium, fine art paper with a gently textured surface
Handmade by specialist picture framers
FSC certified off-white mat / window mount
Delivered ready for hanging
Self Portrait with Fiddling Death | Arnold Böcklin | 1872