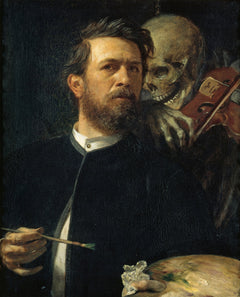 Self Portrait with Fiddling Death | Arnold Böcklin | 1872
"Self Portrait with Fiddling Death" is an oil painting by Swiss artist Arnold Böcklin. The painting features the artist in the foreground, depicted as a musical performer, while in the background Death is depicted as a hooded figure playing a fiddle. The expression on the artist's face is one of peace and contentment, as if he is unafraid of Death, who is playing its melody in the background. The use of light and dark tones creates a contrast between life and death, with the warm colours of the artist's face and clothing set against the dark, shadowy figure of Death. The painting is a powerful representation of the artist's attitude towards mortality, and his acceptance of death as a natural part of life. Overall, "Self Portrait with Fiddling Death" is a striking and memorable work of art.
Print:
A premium quality heavyweight (200gsm) fine art print material with a smooth, clean finish. This museum quality paper is extremely consistent and works perfectly with large, full colour graphics or illustrations. The matte finish emphasizes different highlights and tones in the source artworks; helping to create stunning works of art.
- All prints include a small 0.25 inch white border to ensure space for framing.
Our Eco Credentials Include:
FSC approved or sustainably sourced paper
Printed using water based inks
Local fulfilment reduces carbon emissions
Contains no plastic
Sizes:
11 x 14 Inches = 27.9 cm x 35.6 cm 
16 x 20 Inches = 40.6 cm x 50.8 cm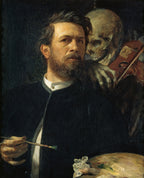 Self Portrait with Fiddling Death | Arnold Böcklin | 1872