Saturn Devouring His Son | Francisco de Goya | 1823
Saturn Devouring His Son is a painting by Spanish artist Francisco Goya. It is traditionally interpreted as a depiction of the Greek myth of the Titan Cronus (known as Saturn in Roman mythology) eating one of his offspring. Fearing a prophecy foretold by Gaea that predicted he would be overthrown by one of his children, Saturn ate each one upon their birth. The work is one of the 14 so called Black Paintings that Goya painted directly on the walls of his house sometime between 1819 and 1823. It was transferred to canvas after Goya's death and is now in the Museo del Prado in Madrid.
Print:
A premium quality heavyweight (200gsm) fine art print material with a smooth, clean finish. This museum quality paper is extremely consistent and works perfectly with large, full colour graphics or illustrations. The matte finish emphasizes different highlights and tones in the source artworks; helping to create stunning works of art.
- All prints include a small 0.25 inch white border to ensure space for framing.
Our Eco Credentials Include:
FSC approved or sustainably sourced paper
Printed using water based inks
Local fulfilment reduces carbon emissions
Contains no plastic
Sizes:
10 x 20 Inches = 25.4 cm x 50.8 cm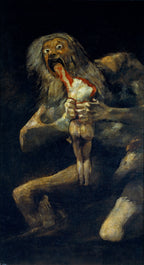 Saturn Devouring His Son | Francisco de Goya | 1823