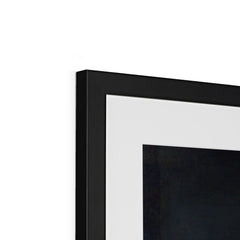 Saint Francis in Meditation | Francisco de Zurbarán | 1639
"Saint Francis in Meditation" is a painting by Spanish Baroque artist Francisco de Zurbarán, created in the early 17th century. The painting depicts Saint Francis of Assisi in a contemplative pose, with his hands folded in prayer and his eyes downcast. The saint is shown against a dark background, emphasizing his spiritual introspection and detachment from worldly distractions. The painting is notable for its simple, austere composition and its use of light, which creates a glowing aura around the saint, reinforcing his holiness and purity. The painting is considered a masterpiece of Spanish Baroque art and is admired for its serene beauty and spiritual intensity.
Frame:
Created from high-quality wood, milled with simple clean lines and presented with a satin finish. Includes an off-white mount that will not discolour or fade with age.
All framed prints feature our premium fine art paper. This is a museum-quality paper which reproduces photography and artworks with exceptional tonality and renders sharp details with consistent flatness and accuracy.

Print: 

For the matted / mounted prints we use a thick 1.4mm window mount cut from premium, textured mountboard. All mounts are "conservation grade", FSC certified, 100% acid free, and will not discolour or fade with age.

Simple, elegant design
Premium, fine art paper with a gently textured surface
Handmade by specialist picture framers
FSC certified off-white mat / window mount
Delivered ready for hanging
Saint Francis in Meditation | Francisco de Zurbarán | 1639