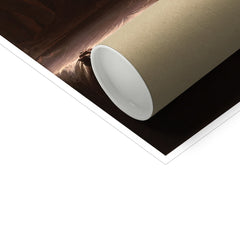 Sadak in Search of the Waters of Oblivion | John Martin | 1812
Sadak in Search of the Waters of Oblivion is an 1812 oil painting by John Martin. It has been called "The most famous of the British romantic works...;" it was the first of Martin's characteristically dramatic, grand, grandiose large pictures, and anchored the development of the style for which Martin would become famous.
The painting shows a human figure climbing in a mountain landscape. The man struggles to surmount a rocky outcrop beside a pool and waterfall; more jagged cliffs and peaks loom in the background, vastly receding. Martin later stated that he finished the work in a month. And he wrote, "You may easily guess my anxiety when I overheard the men who were to place it in the frame disputing as to which was the top of the picture! Hope almost forsook me, for much depended on this work.
Print:
A premium quality heavyweight (200gsm) fine art print material with a smooth, clean finish. This museum quality paper is extremely consistent and works perfectly with large, full colour graphics or illustrations. The matte finish emphasizes different highlights and tones in the source artworks; helping to create stunning works of art.
- All prints include a small 0.25 inch white border to ensure space for framing.
Our Eco Credentials Include:
FSC approved or sustainably sourced paper
Printed using water based inks
Local fulfilment reduces carbon emissions
Contains no plastic
Sizes:
A2 = 16.5 x 23.4 Inches
A3 = 11.7 x 16.5 Inches
A4 = 8.3 x 11.7 Inches
Sadak in Search of the Waters of Oblivion | John Martin | 1812