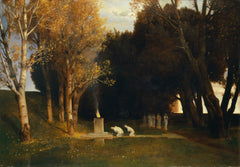 Sacred Grove | Arnold Böcklin | 1882
Influenced by Romanticism, Böcklin's symbolist use of imagery derived from mythology and legend often overlapped with the aesthetic of the Pre-Raphaelites. Many of his paintings are imaginative interpretations of the classical world, or portray mythological subjects in settings involving classical architecture, often allegorically exploring death and mortality in the context of a strange, fantasy world.
Böcklin is best known for his five versions (painted 1880 to 1886) of the Isle of the Dead, which partly evokes the English Cemetery, Florence, which was close to his studio and where his baby daughter Maria had been buried. An early version of the painting was commissioned by a Madame Berna, a widow who wanted a painting with a dreamlike atmosphere. Clement Greenberg wrote in 1947 that Böcklin's work "is one of the most consummate expressions of all that is now disliked about the latter half of the nineteenth century.
Print: 
A premium quality heavyweight (200gsm) fine art print material with a smooth, clean finish. This museum quality paper is extremely consistent and works perfectly with large, full colour graphics or illustrations. The matte finish emphasises different highlights and tones in the source artworks; helping to create stunning works of art.
- All prints feature a 0.25 inch white border to ensure space for framing. 
Our Eco Credentials Include:
FSC approved or sustainably sourced paper
Printed using water based inks
Local fulfilment reduces carbon emissions
Contains no plastic
Size:
A2 = 23.4 x 16.5 Inches
A3 = 16.5 x 11.7 Inches
A4 = 11.7 x 8.3 Inches

Sacred Grove | Arnold Böcklin | 1882