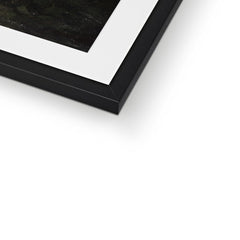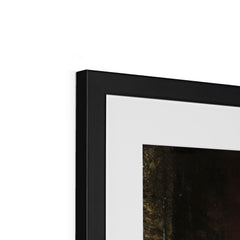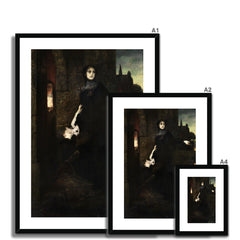 Romantic Scene | Ferdinand Keller | 19th Century
This painting by Ferdinand Keller, a German artist, portrays a dramatic nocturnal scene. A pale, somber woman in black stands at the center, extending her arm towards a child, who appears in a vulnerable position, reaching out to her. The background features a shadowy gothic landscape with a glimpse of a cathedral, contributing to the eerie, mysterious atmosphere. The use of light and shadow enhances the emotional intensity and the overall gothic mood of the piece.
Frame:
Created from high-quality wood, milled with simple clean lines and presented with a satin finish. Includes an off-white mount that will not discolour or fade with age.

All framed prints feature our premium fine art paper. This is a museum-quality paper which reproduces photography and artworks with exceptional tonality and renders sharp details with consistent flatness and accuracy.

Print: 
For the matted / mounted prints we use a thick 1.4mm window mount cut from premium, textured mountboard. All mounts are "conservation grade", FSC certified, 100% acid free, and will not discolour or fade with age.
Simple, elegant design
Premium, fine art paper with a gently textured surface
Handmade by specialist picture framers
FSC certified off-white mat / window mount
Delivered ready for hanging
Romantic Scene | Ferdinand Keller | 19th Century