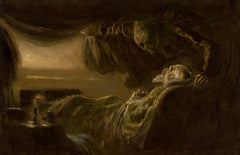 Old Man's Death | László Mednyánszky | 1890
"Old Man's Death" is a painting by the Hungarian artist László Mednyánszky, who was active in the late 19th and early 20th centuries. The painting depicts the death of an old man, who is lying in bed surrounded by darkness. The man's face is illuminated by a small candle, casting a warm and eerie light on his features. The figure of Death, depicted as a dark and ominous shadow, looms over the old man. The painting is characterized by Mednyánszky's distinct style, which combines elements of naturalism and symbolism to create a haunting, melancholic atmosphere. The painting is widely regarded as one of Mednyánszky's most powerful works, and is considered to be a masterpiece of Hungarian Art Nouveau.
Print:
A premium quality heavyweight (200gsm) fine art print material with a smooth, clean finish. This museum quality paper is extremely consistent and works perfectly with large, full colour graphics or illustrations. The matte finish emphasizes different highlights and tones in the source artworks; helping to create stunning works of art.
- All prints include a small 0.25 inch white border to ensure space for framing.
Our Eco Credentials Include:
FSC approved or sustainably sourced paper
Printed using water based inks
Local fulfilment reduces carbon emissions
Contains no plastic
Sizes:
12'' x 8'' Inches = 30.5 cm x 20.3 cm
18'' x 12'' Inches = 45.7 cm x 30.5 cm 
24" x 16" Inches = 61 cm x 40.6 cm

Old Man's Death | László Mednyánszky | 1890