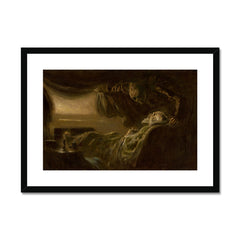 Old Man's Death | László Mednyánszky | 1890
"Old Man's Death" is a painting by the Hungarian artist László Mednyánszky, who was active in the late 19th and early 20th centuries. The painting depicts the death of an old man, who is lying in bed surrounded by darkness. The man's face is illuminated by a small candle, casting a warm and eerie light on his features. The figure of Death, depicted as a dark and ominous shadow, looms over the old man. The painting is characterized by Mednyánszky's distinct style, which combines elements of naturalism and symbolism to create a haunting, melancholic atmosphere. The painting is widely regarded as one of Mednyánszky's most powerful works, and is considered to be a masterpiece of Hungarian Art Nouveau.
Frame:
Created from high-quality wood, milled with simple clean lines and presented with a satin finish. Includes an off-white mount that will not discolour or fade with age.
All framed prints feature our premium fine art paper. This is a museum-quality paper which reproduces photography and artworks with exceptional tonality and renders sharp details with consistent flatness and accuracy.

Print: 

For the matted / mounted prints we use a thick 1.4mm window mount cut from premium, textured mountboard. All mounts are "conservation grade", FSC certified, 100% acid free, and will not discolour or fade with age.

Simple, elegant design
Premium, fine art paper with a gently textured surface
Handmade by specialist picture framers
FSC certified off-white mat / window mount
Delivered ready for hanging

Old Man's Death | László Mednyánszky | 1890