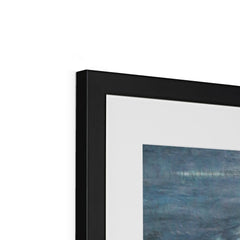 Old Guitarist Chicago | Pablo Picasso | 1903
The Old Guitarist is an oil painting by Pablo Picasso, which he created in late 1903 and early 1904. It depicts an elderly musician, a haggard man with threadbare clothing, who is hunched over his guitar while playing in the streets of Barcelona, Spain. It is on display at the Art Institute of Chicago as part of the Helen Birch Bartlett Memorial Collection.

At the time of The Old Guitarist's creation, Modernism, Impressionism, Post-Impressionism, and Symbolism had greatly influenced Picasso's style. Furthermore, El Greco, Picasso's poor standard of living, and the suicide of a dear friend influenced Picasso's style at the time which came to be known as his Blue Period. Several x-rays, infrared images and examinations by curators revealed three different figures hidden behind the old guitarist.
Frame:
Created from high-quality wood, milled with simple clean lines and presented with a satin finish. Includes an off-white mount that will not discolour or fade with age.
All framed prints feature our premium fine art paper. This is a museum-quality paper which reproduces photography and artworks with exceptional tonality and renders sharp details with consistent flatness and accuracy.

Print: 

For the matted / mounted prints we use a thick 1.4mm window mount cut from premium, textured mountboard. All mounts are "conservation grade", FSC certified, 100% acid free, and will not discolour or fade with age.

Simple, elegant design
Premium, fine art paper with a gently textured surface
Handmade by specialist picture framers
FSC certified off-white mat / window mount
Delivered ready for hanging
Old Guitarist Chicago | Pablo Picasso | 1903