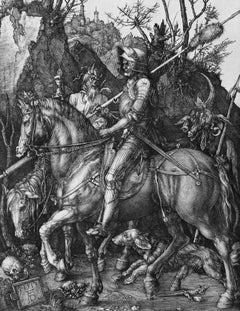 Knight, Death and the Devil | Albrecht Dürer | 1513
Knight, Death and the Devil is a large 1513 engraving by the German artist Albrecht Dürer, one of the three Meisterstiche (master prints) completed during a period when he almost ceased to work in paint or woodcuts to focus on engravings. The image is infused with complex iconography and symbolism, the precise meaning of which has been argued over for centuries.

An armoured knight, accompanied by his dog, rides through a narrow gorge flanked by a goat headed devil and the figure of death riding a pale horse. Death's rotting corpse holds an hourglass, a reminder of the shortness of life. The rider moves through the scene looking away from the creatures lurking around him, and appears almost contemptuous of the threats, and is thus often seen as symbol of courage; the knight's armour, the horse which towers in size over the beasts, the oak leaves and the fortress on the mountaintop are symbolic of the resilience of faith, while the knight's plight may represent Christians' earthly journey towards the Kingdom of Heaven.
Print: 

A premium quality heavyweight (200gsm) fine art print material with a smooth, clean finish. This museum quality paper is extremely consistent and works perfectly with large, full colour graphics or illustrations. The matte finish emphasises different highlights and tones in the source artworks; helping to create stunning works of art.
- All prints feature a 0.25 inch white border to ensure space for framing. 
Our Eco Credentials Include:
FSC approved or sustainably sourced paper
Printed using water based inks
Local fulfilment reduces carbon emissions
Contains no plastic
Sizes:
11 x 14 Inches = 28 cm x 35.5 cm
16 x 20 Inches = 40.6 cm x 50.8 cm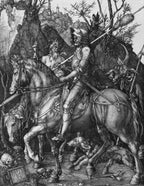 Knight, Death and the Devil | Albrecht Dürer | 1513