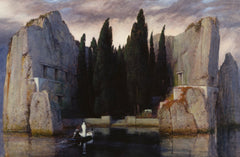 Isle of The Dead | Arnold Böcklin | 1883
All versions of Isle of the Dead depict a desolate and rocky islet seen across an expanse of dark water. A small rowing boat is just arriving at a water gate and seawall on shore. An oarsman maneuvers the boat from the stern. In the bow, facing the gate, is a standing figure clad entirely in white. Just ahead of the figure is a white, festooned object commonly interpreted as a coffin. The tiny islet is dominated by a dense grove of tall, dark cypress trees—associated by long-standing tradition with cemeteries and mourning—which is closely hemmed in by precipitous cliffs. Furthering the funerary theme are what appear to be sepulchral portals and windows on the rock faces.

Böcklin himself provided no public explanation as to the meaning of the painting, though he did describe it as "a dream picture: it must produce such a stillness that one would be awed by a knock on the door". The title, which was conferred upon it by the art dealer Fritz Gurlitt in 1883, was not specified by Böcklin, though it does derive from a phrase in an 1880 letter he sent to the painting's original commissioner. Not knowing the history of the early versions of the painting (see below), many observers have interpreted the oarsman as representing the boatman Charon, who ferried souls to the underworld in Greek mythology. The water would then be either the River Styx or the River Acheron, and his white-clad passenger a recently deceased soul transiting to the afterlife.
Print: 

A premium quality heavyweight (200gsm) fine art print material with a smooth, clean finish. This museum quality paper is extremely consistent and works perfectly with large, full colour graphics or illustrations. The matte finish emphasises different highlights and tones in the source artworks; helping to create stunning works of art.
- All prints feature a 0.25 inch white border to ensure space for framing. 
Our Eco Credentials Include:
FSC approved or sustainably sourced paper
Printed using water based inks
Local fulfilment reduces carbon emissions
Contains no plastic
Sizes:
12'' x 8'' Inches = 30.5 cm x 20.3 cm
18'' x 12'' Inches = 45.7 cm x 30.5 cm 
24" x 16" Inches = 61 cm x 40.6 cm

Isle of The Dead | Arnold Böcklin | 1883