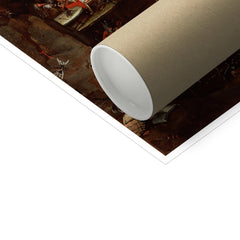 Inferno | Herri met de Bles | 16th Century
"Inferno" is a 16th century painting by the Flemish artist Herri met de Bles, a follower of the well known Hieronymus Bosch. It is a triptych depicting a surreal, fantastical version of Hell, full of twisted and contorted figures suffering the punishments of the damned. The central panel shows the depths of Hell as a chaotic and unsettling landscape, with demons tormenting and tormenting the souls of the damned. The right panel shows the Garden of Earthly Delights, a depiction of human indulgences, while the left panel depicts the temptation and fall of Adam and Eve. "Inferno" is known for its vivid and imaginative depiction of sin, suffering, and the consequences of moral decay.
Print: 

A premium quality heavyweight (200gsm) fine art print material with a smooth, clean finish. This museum quality paper is extremely consistent and works perfectly with large, full colour graphics or illustrations. The matte finish emphasises different highlights and tones in the source artworks; helping to create stunning works of art.
- All prints feature a 0.25 inch white border to ensure space for framing. 
Our Eco Credentials Include:
FSC approved or sustainably sourced paper
Printed using water based inks
Local fulfilment reduces carbon emissions
Contains no plastic
Sizes:
A1 = 33.1 x 23.4 Inches
A2 = 23.4 x 16.5 Inches
A3 = 16.5 x 11.7 Inches
A4 = 11.7 x 8.3 Inches

Inferno | Herri met de Bles | 16th Century