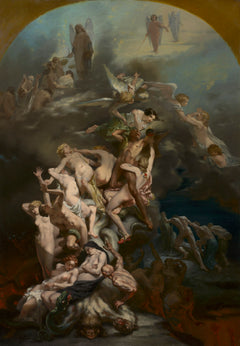 Heaven and Hell | Octave Tassaert | 1850
This painting focuses upon the struggle between good and evil for the soul of a young woman. Looking out at the viewer, she is shown in the upper center of the composition, immediately below an angel and directly above Satan. At the upper right Saint Michael holding scales for weighing the goodness of souls admits the Blessed to Heaven. Below, the Damned struggle to avoid the firey pits of Hell and the demons that will torment them for eternity.
At the time Tassaert painted this work, France was undergoing considerable political upheaval. In 1848, the country was wracked by a civil war between royalist and republican forces. Tassaert himself believed strongly in the Republic, and probably intended the young woman caught between the sensual, worldy temptations of royalist excesses and the noble, pure ideals of the Republic to personify the country of France.
Print:
A premium quality heavyweight (200gsm) fine art print material with a smooth, clean finish. This museum quality paper is extremely consistent and works perfectly with large, full colour graphics or illustrations. The matte finish emphasizes different highlights and tones in the source artworks; helping to create stunning works of art.
- All prints include a small 0.25 inch white border to ensure space for framing.
Our Eco Credentials Include:
FSC approved or sustainably sourced paper
Printed using water based inks
Local fulfilment reduces carbon emissions
Contains no plastic
Sizes:
8 x 12 Inches = 20.3 cm x 30.5 cm 
12 x 18 Inches = 30.5 cm x 45.7 cm
16 x 24 Inches = 40.6 cm x 61 cm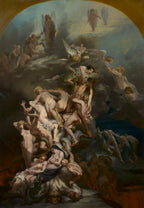 Heaven and Hell | Octave Tassaert | 1850