Gothic Church Ruins | Carl Blechen | 1826
This painting depicts the ruins of a Gothic church. The church's architecture is characterized by tall, pointed arches, ribbed vaults, and large windows, some of which are filled with tracery. Overgrowth and the passage of time have eroded the structure, with vegetation sprouting amongst the ruins and the absence of a roof allowing natural light to penetrate the interior. In the foreground, a figure lies prostrate on the ground, adding a human element to the scene of decay and the enduring nature of the stone remnants. The mood is somber and contemplative, inviting reflection on the passage of time and the transient nature of human endeavors.
Print:
A premium quality heavyweight (200gsm) fine art print material with a smooth, clean finish. This museum quality paper is extremely consistent and works perfectly with large, full colour graphics or illustrations. The matte finish emphasizes different highlights and tones in the source artworks; helping to create stunning works of art.
- All prints include a small 0.25 inch white border to ensure space for framing.
Our Eco Credentials Include:
FSC approved or sustainably sourced paper
Printed using water based inks
Local fulfilment reduces carbon emissions
Contains no plastic
Sizes:
A3 = 11.7 x 16.5 Inches
A4 = 8.3 x 11.7 Inches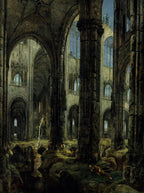 Gothic Church Ruins | Carl Blechen | 1826