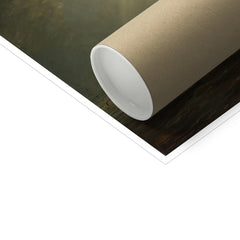 From North Cape | Peder Balke | 1840
"From North Cape" is a painting by Norwegian artist Peder Balke, created in the mid-19th century. The painting depicts the rugged and dramatic landscape of the North Cape, a promontory on the island of Magerøya in northern Norway. In the painting, Balke has captured the wild and untamed beauty of the northern landscape, with its towering cliffs, dramatic rock formations, and turbulent waters. The use of light and color is also striking, with the bright and clear light of the sun casting a brilliant glow over the scene. The painting is notable for its romantic and expressive content, as it reflects the growing interest in the natural world and the outdoors that was popular during the 19th century. Through his depiction of the North Cape, Balke sought to evoke a sense of awe and wonder at the beauty of the natural world, and to encourage viewers to appreciate the grandeur and majesty of the landscape.
Print:
A premium quality heavyweight (200gsm) fine art print material with a smooth, clean finish. This museum quality paper is extremely consistent and works perfectly with large, full colour graphics or illustrations. The matte finish emphasizes different highlights and tones in the source artworks; helping to create stunning works of art.
- All prints include a small 0.25 inch white border to ensure space for framing.
Our Eco Credentials Include:
FSC approved or sustainably sourced paper
Printed using water based inks
Local fulfilment reduces carbon emissions
Contains no plastic
Sizes:
14 x 11 Inches = 35.5 cm x 28 cm
20 x 16 Inches = 50.8 cm x 40.6 cm
From North Cape | Peder Balke | 1840