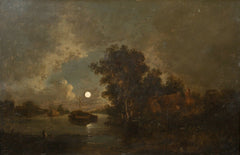 English Moonlit River Landscape & Boat | Sebastian Pether | 19th Century
A classic 19th century English moonlit river landscape with a lonely boat in the distance.  Excellent quality and condition for its age capturing an extensive view at night of dwellings in the foreground of a river.
Presented in an antique gilt frame. Oil on canvas painted by Sebastian Pether.
Measurements: 35 x 24 inches (90cm x 65cm) framed approx.
English Moonlit River Landscape & Boat | Sebastian Pether | 19th Century