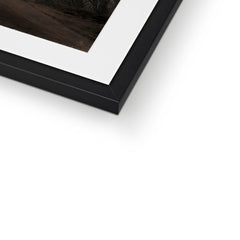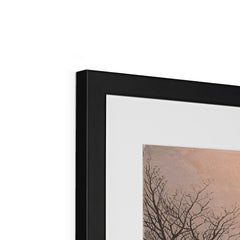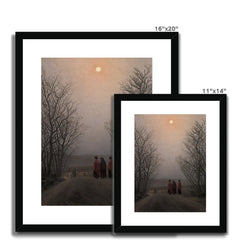 Easter Morning | Caspar David Friedrich | 1835
"Easter Morning" is an oil painting by German Romantic artist Caspar David Friedrich, completed around 1835. The painting depicts a peaceful rural scene, with a group of people gathered in a dirt pathway, surrounded by rolling hills and forest. The central figure is an elderly woman, dressed in black, while others are seen walking or talking nearby. The overall mood of the painting is one of serenity, with the morning sun casting soft light over the landscape. The use of light and shadow, as well as the emphasis on the natural environment, reflect Friedrich's interest in the spiritual and emotional aspects of nature.
Frame:
Created from high-quality wood, milled with simple clean lines and presented with a satin finish. Includes an off-white mount that will not discolour or fade with age.
All framed prints feature our premium fine art paper. This is a museum-quality paper which reproduces photography and artworks with exceptional tonality and renders sharp details with consistent flatness and accuracy.

Print: 

For the matted / mounted prints we use a thick 1.4mm window mount cut from premium, textured mountboard. All mounts are "conservation grade", FSC certified, 100% acid free, and will not discolour or fade with age.

Simple, elegant design
Premium, fine art paper with a gently textured surface
Handmade by specialist picture framers
FSC certified off-white mat / window mount
Delivered ready for hanging
Easter Morning | Caspar David Friedrich | 1835