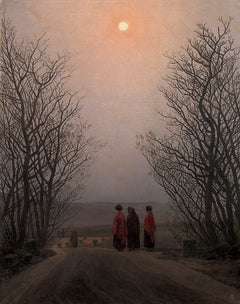 Easter Morning | Caspar David Friedrich | 1835
"Easter Morning" is an oil painting by German Romantic artist Caspar David Friedrich, completed around 1835. The painting depicts a peaceful rural scene, with a group of people gathered in a dirt pathway, surrounded by rolling hills and forest. The central figure is an elderly woman, dressed in black, while others are seen walking or talking nearby. The overall mood of the painting is one of serenity, with the morning sun casting soft light over the landscape. The use of light and shadow, as well as the emphasis on the natural environment, reflect Friedrich's interest in the spiritual and emotional aspects of nature.

 Print:
A premium quality heavyweight (200gsm) fine art print material with a smooth, clean finish. This museum quality paper is extremely consistent and works perfectly with large, full colour graphics or illustrations. The matte finish emphasizes different highlights and tones in the source artworks; helping to create stunning works of art.
- All prints include a small 0.25 inch white border to ensure space for framing.
Our Eco Credentials Include:
FSC approved or sustainably sourced paper
Printed using water based inks
Local fulfilment reduces carbon emissions
Contains no plastic
Sizes:
11 x 14 Inches = 28 cm x 35.5 cm
16 x 20 Inches = 40.6 cm x 50.8 cm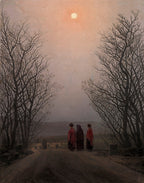 Easter Morning | Caspar David Friedrich | 1835