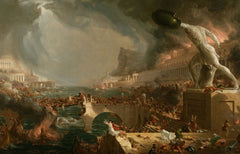 Destruction | Thomas Cole | 1836
The action is the sack and destruction of the city, in the course of a tempest seen in the distance. It seems that a fleet of enemy warriors has overthrown the city's defenses, sailed up the river, and is busy ransacking the city and killing its inhabitants and raping women. The bridge across which the triumphant procession had crossed is broken; a makeshift crossing strains under the weight of soldiers and refugees. Columns are broken, and fire breaks from the upper floors of a palace on the river bank.
In the foreground a statue of some venerable hero (posed like the Borghese Gladiator) stands headless, still striding forward into the uncertain future. In the waning light of late afternoon, the dead lie where they fell, in fountains and atop the monuments built to celebrate the affluence of the now fallen civilization. The scene is perhaps suggested by the Vandal sack of Rome in 455. On the other hand, a detail in the lower right of "The Consummation of Empire" shows two children, maybe brothers, fighting, one clad in red and the other in green—the colors of banners of the two contending forces in "Destruction," which thus might depict a foreshadowed civil war. The children, now men, are shown, with one having finally prevailed over the other but seemingly in contemplation of the heavy price paid. In the painting, the red and green banners are on different sides of the river, with the green banners mostly on the temple side and the red banners predominantly on the palace side, maybe showing the still ongoing war between traditionalism and modernism
Print:
A premium quality heavyweight (200gsm) fine art print material with a smooth, clean finish. This museum quality paper is extremely consistent and works perfectly with large, full colour graphics or illustrations. The matte finish emphasizes different highlights and tones in the source artworks; helping to create stunning works of art.
- All prints include a small 0.25 inch white border to ensure space for framing.
Our Eco Credentials Include:
FSC approved or sustainably sourced paper
Printed using water based inks
Local fulfilment reduces carbon emissions
Contains no plastic
Sizes:
18 x 12 Inches = 45.7 cm x 30.5 cm
24 x 16 Inches = 61 cm x 40.6 cm 

Destruction | Thomas Cole | 1836