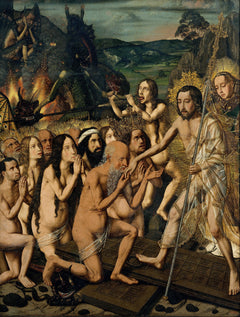 Descent of Christ into Limbo | Bartolomé Bermejo | 1475
"Descent of Christ into Limbo" is a painting by Spanish Renaissance artist Bartolomé Bermejo. It depicts the scene from the New Testament in which Christ descends into the underworld to proclaim victory over death and release the souls of the righteous from Limbo. The painting is characterized by Bermejo's meticulous attention to detail, with the intricate architecture and sumptuous clothing of the figures adding to the grandeur of the scene. The golden halos and other elements of the composition are rendered in a highly stylized manner, giving the painting a sense of formality and elegance. Bermejo's use of rich, vivid colors and elaborate patterns also contributes to the sense of grandeur and luxury in the scene. "Descent of Christ into Limbo" is considered one of Bermejo's most important works and is widely recognized as a masterpiece of Spanish Renaissance art.
Print:
A premium quality heavyweight (200gsm) fine art print material with a smooth, clean finish. This museum quality paper is extremely consistent and works perfectly with large, full colour graphics or illustrations. The matte finish emphasizes different highlights and tones in the source artworks; helping to create stunning works of art.
- All prints include a small 0.25 inch white border to ensure space for framing.
Our Eco Credentials Include:
FSC approved or sustainably sourced paper
Printed using water based inks
Local fulfilment reduces carbon emissions
Contains no plastic
Sizes:
12 x 16 Inches = 30.5 cm x 40.6 cm
18 x 24 Inches = 45.7 cm x 60.1 cm
24 x 32 Inches = 61 cm x 81.3 cm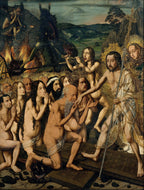 Descent of Christ into Limbo | Bartolomé Bermejo | 1475