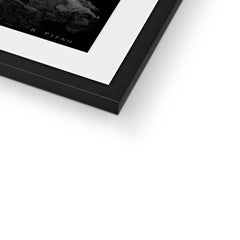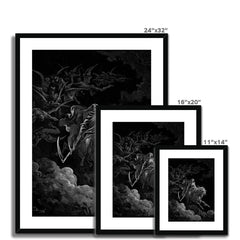 Death on the Pale Horse | Gustave Dore | 1865
"Death on the Pale Horse" is an illustration created by the French artist Gustave Dore. It is a dramatic depiction of Death as a figure riding a pale horse, with the horse's hooves trampling over the bodies of the fallen. The scene is rendered in a dark, apocalyptic style, with a sense of ominous foreboding and destruction. The figure of Death is depicted as a skeletal figure, holding a scythe and wearing a cloak, and the expression on its face is one of determination and grim resolve. The image is a powerful representation of the inevitability of death and the fear it inspires, and is widely regarded as one of Dore's most haunting and memorable works.
Frame:
Created from high-quality wood, milled with simple clean lines and presented with a satin finish. Includes an off-white mount that will not discolour or fade with age.
All framed prints feature our premium fine art paper. This is a museum-quality paper which reproduces photography and artworks with exceptional tonality and renders sharp details with consistent flatness and accuracy.

Print: 

For the matted / mounted prints we use a thick 1.4mm window mount cut from premium, textured mountboard. All mounts are "conservation grade", FSC certified, 100% acid free, and will not discolour or fade with age.

Simple, elegant design
Premium, fine art paper with a gently textured surface
Handmade by specialist picture framers
FSC certified off-white mat / window mount
Delivered ready for hanging
Death on the Pale Horse | Gustave Dore | 1865