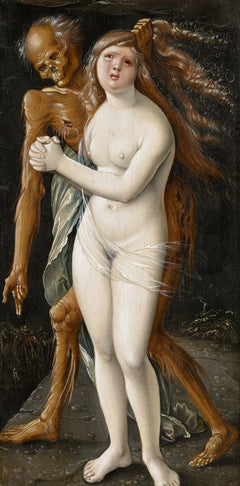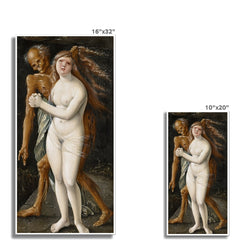 Death and the Maiden | Hans Baldung | 1517
"Death and the Maiden" is a painting by the German Renaissance artist Hans Baldung, also known as Hans Baldung Grien. It was created in the early 16th century. The painting depicts a young woman being embraced by a skeletal figure of Death, who has draped his cloak over her. The maiden appears to be in a state of fear or resignation, as Death holds her in a tight embrace. The painting is widely interpreted as a representation of the inevitability of death and the transience of life. The composition is thought to be symbolic of the fleeting nature of youth and beauty, and serves as a reminder of the constant presence of death. "Death and the Maiden" is considered to be one of Baldung's most powerful and iconic works, and is a masterpiece of Northern Renaissance art.
Print: 

A premium quality heavyweight (200gsm) fine art print material with a smooth, clean finish. This museum quality paper is extremely consistent and works perfectly with large, full colour graphics or illustrations. The matte finish emphasises different highlights and tones in the source artworks; helping to create stunning works of art.
- All prints feature a 0.25 inch white border to ensure space for framing. 
Our Eco Credentials Include:
FSC approved or sustainably sourced paper
Printed using water based inks
Local fulfilment reduces carbon emissions
Contains no plastic
Sizes:
10 x 20 Inches = 25.4 cm x 50.8 cm
16 x 32 Inches = 40.64 cm x 81.28 cm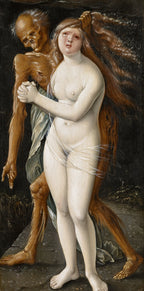 Death and the Maiden | Hans Baldung | 1517