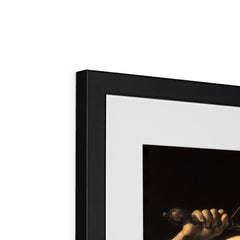 David with the Head of Goliath | Caravaggio | 1601
"David with the Head of Goliath" is a painting by Italian Baroque master Michelangelo Merisi da Caravaggio, created in the late 16th or early 17th century. The painting depicts the Biblical story of David, who defeated the giant warrior Goliath with a single stone from his sling. In the painting, David is shown holding Goliath's severed head, looking out at the viewer with a determined expression. The painting is notable for its dramatic composition, with David and the head of Goliath occupying the center of the canvas and surrounded by a dark, emotive background. The painting is considered an important work of Baroque art and reflects Caravaggio's skill as a painter and his ability to create powerful, dramatic scenes. The painting is admired for its dramatic tension, its intense emotion, and its bold and confident brushwork. Caravaggio's use of light and shadow, combined with his vivid and realistic depictions of the figures, made a profound impact on the development of Western art and continues to influence artists to this day.
Frame:
Created from high-quality wood, milled with simple clean lines and presented with a satin finish. Includes an off-white mount that will not discolour or fade with age.
All framed prints feature our premium fine art paper. This is a museum-quality paper which reproduces photography and artworks with exceptional tonality and renders sharp details with consistent flatness and accuracy.

Print: 

For the matted / mounted prints we use a thick 1.4mm window mount cut from premium, textured mountboard. All mounts are "conservation grade", FSC certified, 100% acid free, and will not discolour or fade with age.

Simple, elegant design
Premium, fine art paper with a gently textured surface
Handmade by specialist picture framers
FSC certified off-white mat / window mount
Delivered ready for hanging
David with the Head of Goliath | Caravaggio | 1601