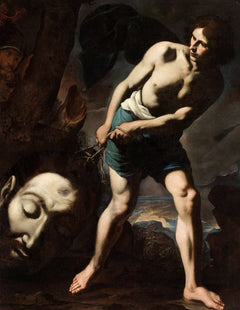 David with the Head of Goliath | Andrea Vaccaro | 1635
"David with the Head of Goliath" is a painting by Italian Baroque artist Andrea Vaccaro, created in the 17th century. The painting depicts the Biblical story of David, who defeated the giant warrior Goliath with a single stone from his sling. In the painting, David is shown dragging Goliath's severed head, looking down at it as he pulls. The painting is notable for its dramatic composition, with David and the head of Goliath occupying the center of the canvas and surrounded by a dark, emotive background. The painting is considered an important work of Baroque art and reflects Vaccaro's skill as a painter and his ability to create powerful, dramatic scenes. The painting is admired for its dramatic tension, its intense emotion, and its bold and confident brushwork.
Print:
A premium quality heavyweight (200gsm) fine art print material with a smooth, clean finish. This museum quality paper is extremely consistent and works perfectly with large, full colour graphics or illustrations. The matte finish emphasizes different highlights and tones in the source artworks; helping to create stunning works of art.
- All prints include a small white border to ensure space for framing.
Our Eco Credentials Include:
FSC approved or sustainably sourced paper
Printed using water based inks
Local fulfilment reduces carbon emissions
Contains no plastic
Sizes:
11'' x 14'' Inches = 27.9 cm x 35.6 cm
16'' x 20'' Inches = 40.6 cm x 50.8 cm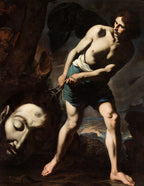 David with the Head of Goliath | Andrea Vaccaro | 1635