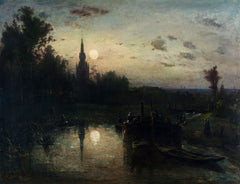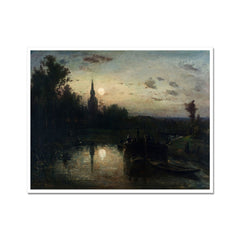 Clair de lune à Overschie | Johan Jongkind | 1855
Jongkind's most frequent subject was the marine landscape, which he painted both in the Netherlands and in France. Many of his works depict the Seine, particularly the area near Notre-Dame Cathedral. He painted watercolors out-of-doors, and used them as sketches for oil paintings made in his studio. His paintings are characterized by vigorous brushwork and strong contrasts. Like the 17th-century Dutch landscape painters of the Golden Age of Dutch painting, he typically composed his landscapes with a low horizon, allowing the sky to dominate.
Print:
A premium quality heavyweight (200gsm) fine art print material with a smooth, clean finish. This museum quality paper is extremely consistent and works perfectly with large, full colour graphics or illustrations. The matte finish emphasizes different highlights and tones in the source artworks; helping to create stunning works of art.
- All prints include a small 0.25 inch white border to ensure space for framing.
Our Eco Credentials Include:
FSC approved or sustainably sourced paper
Printed using water based inks
Local fulfilment reduces carbon emissions
Contains no plastic
Sizes:
14 x 11 Inches = 35.5 cm x 28 cm
20 x 16 Inches = 50.8 cm x 40.6 cm

Clair de lune à Overschie | Johan Jongkind | 1855