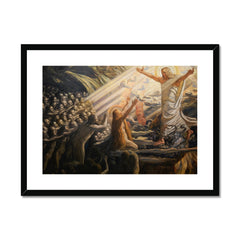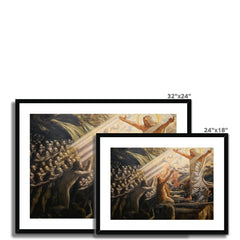 Christ in the Realm of the Dead | Joakim Skovgaard | 1894
"Christ in the Realm of the Dead" is a fresco painted by Danish artist Joakim Skovgaard. The fresco is located in the Church of Our Lady in Copenhagen, Denmark. The artwork depicts a scene from the New Testament, in which Jesus descends into the underworld to proclaim his victory over sin and death. In Skovgaard's interpretation, Christ is depicted as a powerful, youthful figure, surrounded by the souls of the dead. The fresco is notable for its intricate, highly detailed style, which draws heavily on Nordic folklore and traditional motifs. Skovgaard's use of strong, linear forms and bold, contrasting colors creates a dramatic, otherworldly atmosphere that adds to the power of the image. Overall, "Christ in the Realm of the Dead" is considered one of Skovgaard's masterpieces, and a key example of his contributions to the Art Nouveau movement in Denmark.
Frame:
Created from high-quality wood, milled with simple clean lines and presented with a satin finish. Includes an off-white mount that will not discolour or fade with age.
All framed prints feature our premium fine art paper. This is a museum-quality paper which reproduces photography and artworks with exceptional tonality and renders sharp details with consistent flatness and accuracy.

Print: 

For the matted / mounted prints we use a thick 1.4mm window mount cut from premium, textured mountboard. All mounts are "conservation grade", FSC certified, 100% acid free, and will not discolour or fade with age.

Simple, elegant design
Premium, fine art paper with a gently textured surface
Handmade by specialist picture framers
FSC certified off-white mat / window mount
Delivered ready for hanging
Christ in the Realm of the Dead | Joakim Skovgaard | 1894