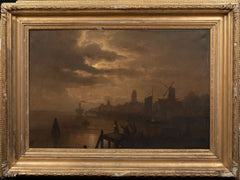 Dutch Dordrecht Moonlit Landscape | Felix Kreutzer (1835-1876) | 19th Century
Large 19th century Dordrecht moonlit landscape. Excellent quality and condition example of the artist's work and early view of the famous Dutch port.
Presented in an antique gilt frame. Oil on canvas by Felix Kreutzer.
Measurements: (43 x 30 inches) 110cm x 75cm framed approx.

Dutch Dordrecht Moonlit Landscape | Felix Kreutzer (1835-1876) | 19th Century