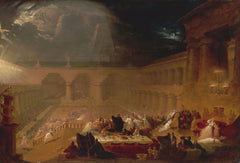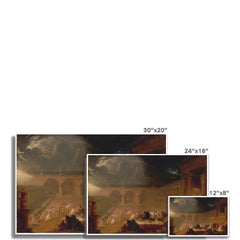 Belshazzar's Feast | John Martin | 1820
The Biblical episode depicted in the painting – Belshazzar's Feast – is described in the Book of Daniel chapter 5. The Babylonian king Belshazzar is said to have defiled the sacred vessels of the enslaved Israelites by using them to serve wine at a banquet. The feast was then disturbed by the appearance of a divine hand, which wrote a glowing inscription on a wall – the writing on the wall – which was interpreted by the prophet Daniel as a portent of Belshazzar's doom. Belshazzar was killed that night, and Darius the Mede succeeded to his kingdom.
Print:
A premium quality heavyweight (200gsm) fine art print material with a smooth, clean finish. This museum quality paper is extremely consistent and works perfectly with large, full colour graphics or illustrations. The matte finish emphasizes different highlights and tones in the source artworks; helping to create stunning works of art.
- All prints include a small 0.25 inch white border to ensure space for framing.
Our Eco Credentials Include:
FSC approved or sustainably sourced paper
Printed using water based inks
Local fulfilment reduces carbon emissions
Contains no plastic
Sizes:
12'' x 8'' Inches = 30.5 cm x 20.3 cm
18'' x 12'' Inches = 45.7 cm x 30.5 cm 
24" x 16" Inches = 61 cm x 40.6 cm
30" x 20" Inches = 76.2 cm x 50.8 cm
Belshazzar's Feast | John Martin | 1820