Anxiety | Edvard Munch | 1894
Anxiety (Norwegian: Angst) is an oil on canvas painting created by the expressionist artist Edvard Munch in 1894. It is now in the Munch Museum in Oslo, Norway. Many art critics feel that Anxiety is closely related to Munch's more famous piece, The Scream (1893). The faces show despair and the dark colours show a depressed state. Many critics also believe it's meant to show the emotions of heartbreak and sorrow.
Print:
A premium quality heavyweight (200gsm) fine art print material with a smooth, clean finish. This museum quality paper is extremely consistent and works perfectly with large, full colour graphics or illustrations. The matte finish emphasizes different highlights and tones in the source artworks; helping to create stunning works of art.
- All prints include a small 0.25 inch white border to ensure space for framing.
Our Eco Credentials Include:
FSC approved or sustainably sourced paper
Printed using water based inks
Local fulfilment reduces carbon emissions
Contains no plastic
Sizes:
12 x 16 Inches = 30.5 cm x 40.6 cm
18 x 24 Inches = 45.7 cm x 60.1 cm
24 x 32 Inches = 60.1 cm x 81.3 cm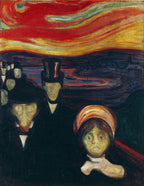 Anxiety | Edvard Munch | 1894